The US Presidential Race will take centre stage around the whole world on Tuesday, and we have a very nice offer to exploit. A US Election is always big news, and this has been a year like no other.
BoyleSports is offering a Risk Free £10 bet on the Outright market here, and we're going to explain how to turn this offer into cash.
Key Terms;
Max free bet is £10
Applies to your first bet on the Outright market for the US President
Bets must be placed pre-off, but you can place the bet on Tuesday (Check link on Daily Calendar is still active)
Only applies to losing bets
Bet must be placed via mobile

What You Need:
A Boylesports account
An exchange account with an available balance big enough to lay back your bets
You need to be familiar with using the Profit Rush Bet Calculator
Not got one? Get your account by clicking here (terms and conditions apply).
That's all you need to get started, it's simple! Let's go through the steps so you can get the most money.
Step 1 – Place our qualifying bet:
You must place your bet with Mobile, so please make that the most important element.
We only have two options here. Back Joe Biden or Donald Trump. Jose Biden is actually the same price on BoyleSports as he is to lay on Betfair, so we're going to lock in profit here.
For Step 1, we place a £10 bet on Joe Biden VIA MOBILE at 1.5 with Boylesports.
Step 2 – Lay off on the exchanges:
Now that we have found our target match, we need to lay off on Betfair. Joe Biden is currently 31.5 to lay on Betfair. To find the correct stake to get the most profit, we use the Profit Rush Bet Calculator, and we put in the information. Remember to select Risk Free Bet in the calculator, and then put bet retention at 100% with £10. You will see a screen like this: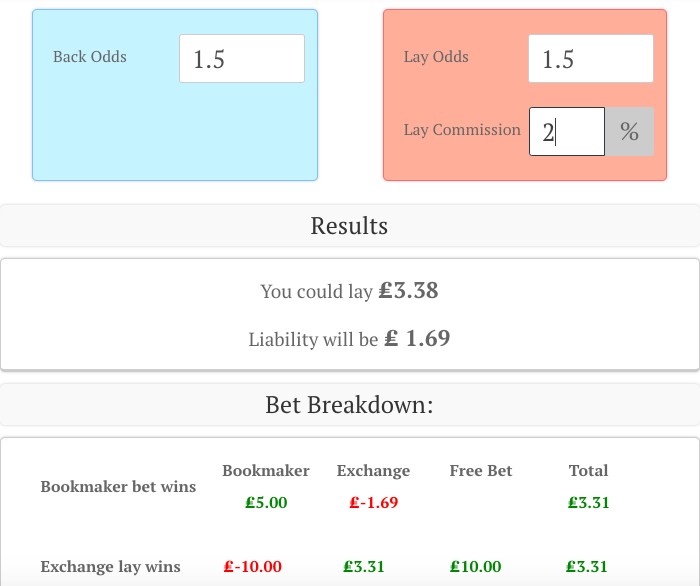 As you can see, we lay Joe Biden for £3.38 on Betfair meaning we have locked in a profit of £3.31 regardless of the outcome.
If you expect Trump to lose and would like to back him on BoyleSports and lay on Betfair, the qualifying cost is £1.38 which is quite a lot for a £10 bet. However, you would get your £10 back from BoyleSports and win your £10 lay on Betfair.
Whatever happens, it's sure to be an interesting day!
Not sure about something in this offer? Click here to ask us on the community forum now.
Did you find this article helpful?
Check the Profit Rush Daily Calendar for more and come back tomorrow for another daily offer!