Manchester United v Arsenal in the headline fixture in the Premier League this weekend, and we have a nice offer to exploit with a Risk Free Bet.
Boylesports is offering Money Back if your bet loses up to £10 on Manchester United v Arsenal, and we're going to show you the best way to play this offer…
Key Terms;
Max free bet is £10
Applies to your first bet on Manchester United v Arsenal
Bets must be placed pre-off, kick off is 4-30pm on Sunday the 1st of November
Bet must be placed via mobile

What You Need:
A Boylesports account
An exchange account with an available balance big enough to lay back your bets
You need to be familiar with using the Profit Rush Bet Calculator
Not got one? Get your account by clicking here (terms and conditions apply).
That's all you need to get started, it's simple! Let's go through the steps so you can get the most money.
Step 1 – Place our qualifying bet:
You must place your bet with Mobile, so please make that the most important element. After that, we have two options:
We're going to aim to find a reasonably close match but one that we feel will lose. This means we can gain the most profit.
Manchester United are currently the closest match in the Price Matcher, as they are 2.15 with BoyleSports and 2.22 to lay with Betfair. That set up cost is only £0.43. However, we would make more profit if the selection lost; so we're going to opt for Arsenal. You'll see why below.
For Step 1, we place a £10 bet on Arsenal VIA MOBILE at 3.3 with Boylesports.
Step 2 – Lay off on the exchanges:
Now that we have found our target match, we need to lay off on Betfair. The Arsenal win is currently 3.5 to lay on Betfair. To find the correct stake to get the most profit, we use the Profit Rush Bet Calculator, and we put in the information. You will see a screen like this: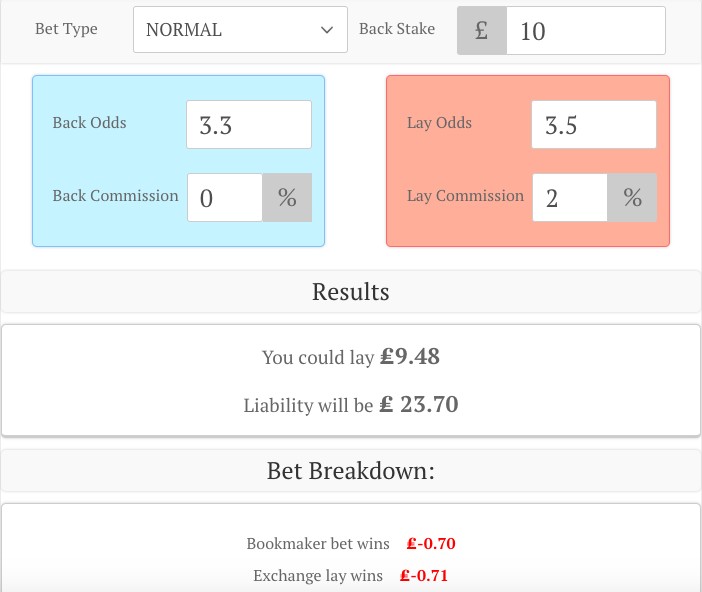 For step 2, we lay Arsenal at 3.5 for £9.48 on Betfair. To set up the qualifying bet will cost us £0.70 which still a reasonably low cost and now let's look at the possible winnings.
Now let's look at the possible outcomes:
| | | | |
| --- | --- | --- | --- |
| Outcome | Bookmaker | Exchange | Profit & Loss |
| If Arsenal Win | £23 | -£23.70 | -£0.70 |
| If Arsenal Draw Or Lose | Cashback | £9.29 | £9.29 |
What a brilliant position! You are effectively getting odds of 14.27 that Arsenal don't win and considering that it's currently 3.55 (28.2% chance) to actually happen that is fantastic value. You can see what a profitable offer this is over the long-term.
Not sure about something in this offer? Click here to ask us on the community forum now.
Did you find this article helpful?
Check the Profit Rush Daily Calendar for more and come back tomorrow for another daily offer!