This is a very easy offer and exchanges offers are always great to do! 
Betfair Exchange continue with a Bet £20 Get £5 offer, but if you back a winner with your free bet you get another, and then another, and then another! That is if you can keep backing winners!
The offer is available until Sunday the 8th of November. Let's look at the best way to play this offer…
Key Terms;
To qualify you must first Opt-In
Applies to Exchange bets, you must place £20 or more over the course of the week (2nd November to 8th November)
If you decide to lay, it's the liability which will count
Min odds are 1.5 for back bets
You must be on the 5% commission package

What You Need:
A Betfair account
Another exchange account with an available balance big enough to lay back your bets
You need to be familiar with using the Profit Rush Bet Calculator
Not got one? Get your account by clicking here (terms and conditions apply).
That's all you need to get started, it's simple! Let's go through the steps so you can get the most money.
If you haven't tried it yet, you may also want to do some Betfair Trading.
Step 1 – Place our qualifying bet:
As you can do this throughout the week, we're going to give you an example that can be applied to any team.
The easiest way to play this offer is to find a football match with the favourite trading between 1.55 and 1.65. Why is this? You will get a very close match between Betfair and SMarkets meaning the lowest qualifying cost possible. It's very, very possible that you'll find a match within a tick.
So for Step 1, place a £20 back bet with your selected at 1.55 with Betfair Exchange.
Step 2 – Lay off on the other exchanges:
Usually, we place back bets with bookmakers and lay off on Betfair. However, this time we need a different exchange. SMarkets will have a huge amount of liquidity on the likes of horse racing so you should easily find a very close match. To get the correct stakes, we put this information into the Profit Rush Bet Calculator, and we should get this screen:
As you can see, for Step 2 we have to lay your selected team for £19.77 on SMarkets, meaning we have a set-up cost of -£0.63. That's a very low cost. And we have a free £5 bet to come from Betfair now…
Step 3 – Place your free £5 bet:
For our free bet, we have two options:
Find a high-priced match for max profit
Aim for a low match with lower profit but a chance of getting another free bet
We feel that you should aim for the second option, so aim to find something trading around 2.5 perhaps. Once again you will be able to find a very close match, so you can repeat steps 1 and 2 with your £5 free bet to lock in profit with the chance of another free bet to come.
For step 3, place your £5 free bet on a selection at 2.5 with Betfair Exchange.
Step 4 – Locking In Profit:
Now that we've placed our free bet with Betfair, we need to lay off on SMarkets again and lock in a profit. We have all the correct figures, now we just need to put them into the Profit Rush Bet Calculator. Remember this time we need to make sure that FREE BET (SNR) is selected in the Bet Type drop-down menu. This is very important, otherwise, your figures will be wrong.
We will then get this screen: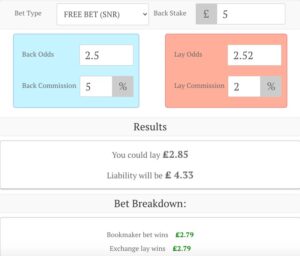 As you can see, you have now locked in a small profit! You could also not lay off your £5 free bet and treat it as an advantage play. However, remember it cost us £0.63 to set up earlier. The main aim with this offer is finding a winner with your free bet so you can get another!
Not sure about something in this offer? Click here to ask us on the community forum now.
Did you find this article helpful?
Check the Profit Rush Daily Calendar for more and come back tomorrow for another daily offer!