Not sure what matched betting is, how it works or how much you can make from it? Don't sweat it, they're all common questions.
We have the answers…
In this article, we're going to cover the lot, from the ground up. Starting at understanding what matched betting is, and how you can make a profit, all the way up to getting started.
We're so confident in what we do, read on and we'll get you started in under 20 minutes.
What is Matched Betting?
It's no secret; bookies give away free bets and enhanced bonuses to users to achieve one of two things:
Entice new users to sign up.
Keep or increase their betting activity.
Matched betting is the term given to the process used to turn such offers and bonuses into a risk-free profit. Which is where we come in, because; with the right tools and help you can turn those offers into a solid and consistent income. Week after week.
At first, most readers are sceptical.
We aren't going to knock you for it either, in most cases if somethings too good to be true; it is. However, matched betting is as close to an exception as your likely to get. It may take a little time to learn how to use the various tools and offers at first, but we're yet to hear from anyone that didn't find it useful.
Still interested? Let's take a peek at the process…
How Matched Betting Works
The process of matched betting is really quite simple. Even if you've never placed a bet before in your life.
Matched betting works by placing two opposing bets, on the same selection, against each other – to gain a bonus at little or no cost. Then, once the free bet or enhanced price bonus is credited, you'll repeat the process once more. Turning the bonus into a rather tasty return.
But there's a problem…
Finding bonuses, correct betting odds (to place the opposing bets) and then calculating returns can be time-consuming. But by using our price matcher and calculator, as explained within the video guidance section you can place a successfully matched bet in minutes. We'll even walk you through it, step by step!
And if that wasn't enough, we have a thriving community forum to discuss the in's and out's of how matched betting works.
Matched Betting Basics: Mini Guide
For those that aren't familiar with betting at all, matched betting may seem a little overwhelming at first. But much like riding a bike; once you've done it a couple of times it's simple.
If that's you, let's skim over a few matched betting basics. If it's not, scroll ahead!
What do you need?
As you can see; not a lot is required, which is probably why matched betting is so popular!
Matched Betting Mini-Guide:
The easiest way to explain the concept of matched betting is through this snappy info-graphic…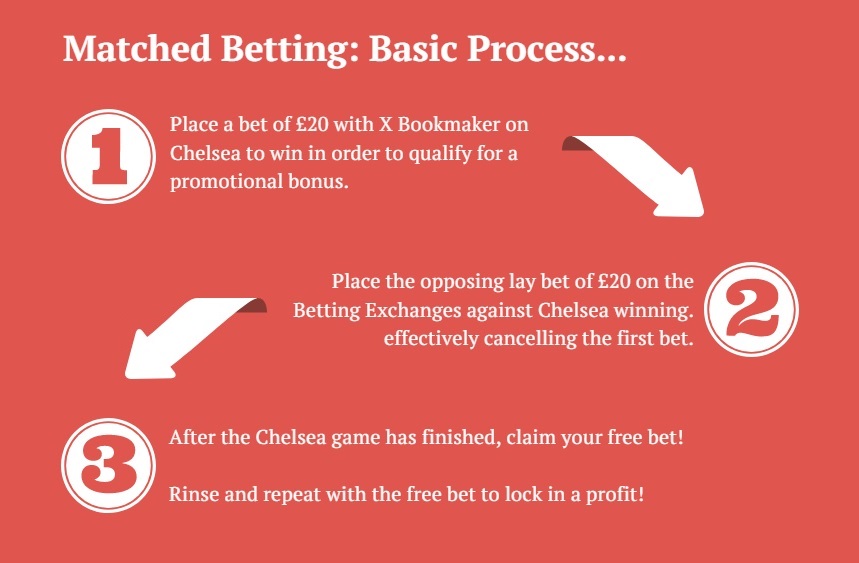 Make sense? Hopefully.
If not, and you've got a bit more time on your hands after reading this article (10-15 minutes). See our full video explanation outlining all the matched betting basics you'll need to know.
How Much Can You Make Matched Betting?
It's why you're here, isn't it? Too right!
The amount of money that can be made from matched betting is a never-ending topic. Depending on a few different variables:
How much time and effort you're willing to invest.
If you have many bookmakers accounts (and how much you may have won or lost in the past).
The matched betting bank you have (and are willing to re-invest).
How fast you can turnover existing winnings!
What we will say is; in recent years, some people have taken matched betting up as their primary income. Some have bought cars, cleared mortgages and funded family holidays. All of which is pretty impressive, but past performance isn't always an indication of future results…
To that end, we're happy to put our head on the chopping block and say £350 a month (see the forum) is quite possible for a part-time matched bettor.
How much you can make from matched betting is mainly centred around the first and third bullet points above.
Those who consistently re-invest and turnover existing winnings (rather than withdraw and spend) win and build up a healthy balance faster. In the past, die-hard matched bettors have reported making north of £4,000 a month online.
Is Matched Betting Legal?
Still suspecting it's too good to be true? Really, it's not! Matched betting is completely legal. You're just placing bets at the end of the day…
So long as you are old enough to be doing so, and can open a betting account, you're good to go.
Matched betting is legal and a spokesperson for William Hill has indicated that the betting industry does not have a problem with this use of free bets – 
When people ask if matched betting is legal, the next is usually; is matched betting taxable? Nope, not a bean. Because we're just placing bets, like any ordinary punter, matched betting profits are 100% tax-free.
Bookmakers aren't particularly thrilled with those who profit from their promotions, but it's completely legitimate. You may hear them bounce around terms like 'bonus abuse' but, it's just sour grapes on their part.

Who Can Matched Bet?
It's probably easier to just list who can't in truth:
Anyone who is not old enough to bet (under the age of 18 in the UK).
Users who are banned or self-excluded by a betting firm (but that's only bookmaker specific).
Other than that, anyone!
You'll find from the community forums that there is a really diverse range of individuals who are matched betting. To give you an idea, we have; university students topping up their beer-fund. Young mothers kitting out the kids with the latest trends, professionals that work from home and even a handful of pensioners!
Just about anyone can do it…
Matched Betting Software
You've probably got it by now, but the money is in turning over various offers quickly and efficiently. To do that you're going to need some kind of software.
We aim to make the whole experience stress free, and rapid. Something we're pretty good at.
You can see the details of the different matched betting software, tools, notifications and calendars on the tabs at the top of this page. Better still, sign up and get access to everything via your personalised user dashboard.
What does a price matcher do?
Seasoned users know the must-have piece of kit is the price matcher. Why? it's going to tell you all of the places where various bookmakers prices match up with the current exchange pricing. Or pretty close to anyway. You need this because; the bigger the difference in price, the harder it is to get every penny out of each offer.
Why are calendar notifications important?
Sure, you can look around and find yourself an offer. It's not so hard. But if you'd much rather get the high-value, easy to use offers, as they're released – you'll want to check out the calendar. Also, you won't miss out on time-sensitive offers. For example; £20 free bet today when you bet on XYZ football match.
Do you need a calculator?
It's another one of those 'time and avoiding mistakes' things. You could work out the percentage returns on any offer yourself, but we've got a nifty calculator linked in with our software and calendar to make it an error-free experience in just a couple of clicks.
What about support?
Of course, each of the items above come with customer support and a useful community forum. Just about everything you need to know has already been answered in most cases…
Did you find this article useful? Be sure to let us know below…