There are many different matched betting techniques out there, over and underlaying are amongst the most popular. Especially for reload offers.
However, overlaying and underlaying is more advanced than typical methods. Fortunately, our underlay calculator mode will make life a lot easier.
You can register to use our premium tools for free here.
What is Underlaying in Matched Betting?
Underlaying is an advanced matched betting technique that helps you to do one of two things:
Take all the risk out of trickier offers.
Skew risk and reward in order to save time.
Sounds good right? It is.
When you think about reload offers, bookmakers add restrictive caveats that make matched betting harder. Clearly, they aren't keen on savvy users milking the marketing budget. However, with the use of an underlay calculator and smart bet placement, we can come out on top either way.
Underlaying definition:
To place a matched bet where the lay bet's stake is less, making the overal result favours a win at the bookmakers.
In this guide, we're going to show you how to underlay a bonus for matched betting purposes. We'll include some images and examples too, just to make sure it's crystal clear.
How to Underlay a Bet:
You may have found the underlay calculator whilst using our matched betting calculator.

If you haven't, it can be found in either NORMAL or FREE BET (SNR) mode by clicking ADVANCED at the bottom.
When Should You Underlay?
There are 3 instances where we would consider underlaying a bet.
Rollover qualification offers
Accumulator refunds
Free bet when your back bet loses
Underlays will either reduce risk or save you time in each of these situations. The downside being, you may give away some extra value if things don't fall your way.
Side note: it's important to strike a balance. If losing £5-£10 means you don't have to place 20 rollover bets, it's probably worth it.
Why does underlaying work?
The logic is simple, we're creating a bias when placing the matched bet. This can be useful depending on the terms (mentioned above).
By underlaying the qualification bet there are two potential outcomes:
If the bookmaker bet wins you stand to lose nothing (no bonus given).
If the bookmaker bet loses you lose a small amount on the exchange (you gain a free bet).
If you still don't get it, this might help…
Underlay Example:
Hypothetical offer: Bet £40 on the 3pm at Ascot to get a free £20 if your bet loses.
So we head over to the underlay calculator and plug in some hypothetical figures…
NORMAL > ADVANCED
Back stake of £40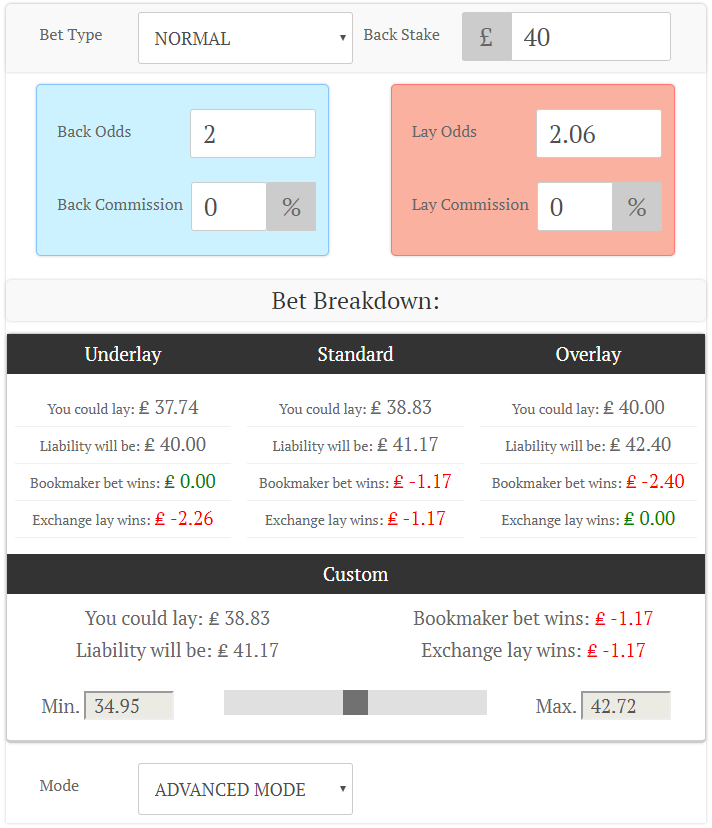 The numbers aren't so relevant, just look into the 4 outcomes in the 'underlay' section.
The first two are the proposed lay stake and liability for this underlay bet, as you might expect to see on any calculator. Things get more interesting when you look at the potential outcomes.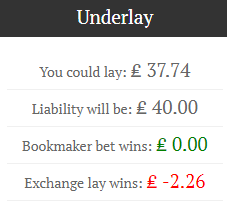 This means that if our back bet should win with the bookmaker we haven't lost a bean!
However, if the bookmakers bet loses (exchange wins) then we stand to lose £2.26 but get a free £20 bet. You then use the calculator in FREE BET (SNR) to turn it into profit, way beyond the £2.26 loss.
If you want to manipulate the figures, there's also a neat slider bar at the bottom!
Overlaying Your Bets
Without wanting to insult your intelligence, we do the complete opposite to overlay a bet.
This betting method isn't quite as popular, but it's still useful if there's an offer where a free bet is awarded when your back bet wins.
Perhaps the best example of this offer is the Bet365 4/1 featured race offer.
Like the previous example, there is a risk of not getting a free bet (if your selection loses). However, with the overlay calculator mode it means you don't lose any money.
For example:
Using the above image, let's assume the hypothetical offer is Bet £40 on the 3pm at Ascot to get a free £20 if your bet wins.
In this case, we would use the figures show below the 'overlay' section. As you can see, the difference being the liability of £2.40 is now on the bookmakers side of the equation.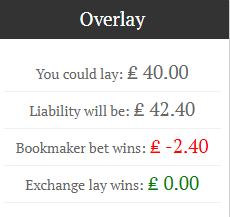 If the back bet wins, we lose the £2.40 but get a free £20 bet. Alternatively, if the back bet loses we don't lose anything but we don't qualify for the free bet either.
Free Over & Underlay Calculator:
Our underlay calculator is available via the features menu at the top of any page.
Here's direct route:
Features > Bet Calculator > NORMAL or FREE BET > ADVANCED.
Note: to access the underlay calculator you need to be logged in to your Profit Rush account.