The Bet365 Bet £50 Get £50 is one of, if not the best, Matched Betting offer there is.
We usually see this offer on a high profile Premier League or Champions League game once or twice a month. The profit expected is usually between £20 and £35 – so it's a high-value offer!
Basically the Bet365 Offer is when you place a bet pre-match. They will then give you a free bet of the same value (up to £50) in-play.
To save you time we've created this step by step guide so you can make a profit.
You can register to use our premium tools for free here.
What You Need:
A Bet365 account with £100 available funds.
An exchange account with £200 or more balance available.
If you haven't got an exchange account, there is a choice of 4 here.
Step 1, Find Your Trigger Bet:
First, we need to place a £50 bet on the game before it starts. Any market on the selected Bet365 game will do but we want to find the best match possible.
To do this, use the Profit Rush Price Matcher. Tick the boxes as they appear in the photo below: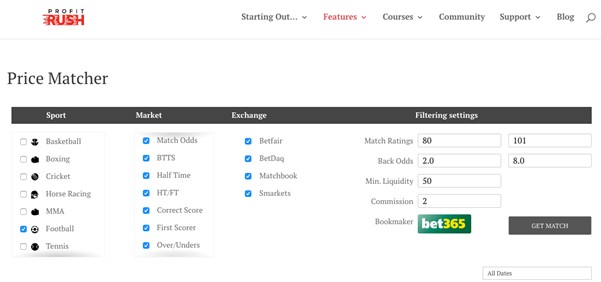 This will bring up the closest matches available to you. We have set the commission to 2% but remember Betdaq users get 0% commission through Profit Rush, so you can change 2 to 0 when using Betdaq.
Claim your 0% Betdaq Account by Clicking Here.
Results will be presented as follows: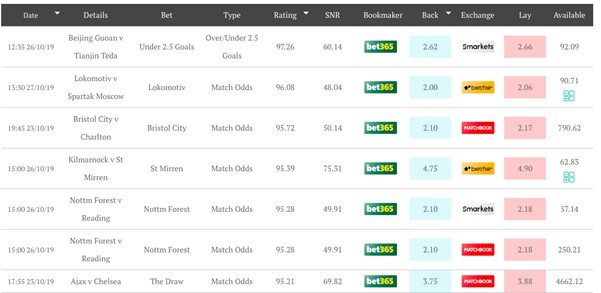 Obviously you will have to look for the Bet365 game. So for this example, we're going to imagine the selected game is Bristol City v Charlton, taking Bristol City at 2.1 as our bet.
Step 1 Action: We place a £50 bet on Bristol City at 2.1 with Bet365.
Step 2, Now We Calculate the Lay Bet:
Now that we have placed our £50 trigger bet with Bet365, we need to lay that bet back on an exchange. The trigger bet has already locked in our £50 free bet later, but we now have to lay off the trigger bet so we have no risk.
We already know what we have to lay on the exchange, but we need to find the stake.
To do this we can use the Profit Rush Bet Calculator. We can see in the last photo that the lay price is 2.17. So put this in as your lay price; along with your back stake and back odds.
You will be given this screen by the calculator: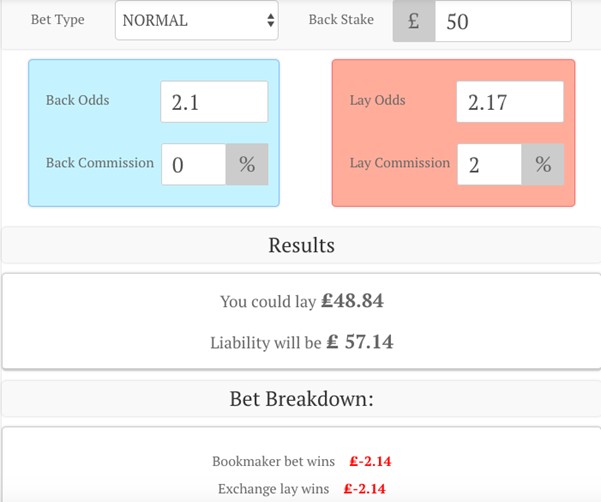 Step 2 Action: We have used the Profit Rush Bet Calculator to get the correct stake.
Step 3, Place the Lay Bet:
Now that we know what the correct stake to use, step 3 is simple.
Profit Rush users can directly place the correct lay bet through the Bet Calculator if you have your Betfair account linked.
If you aren't using integration, log into your exchange account and lay Bristol City at 2.17 for £48.84. The lay button is on the right-hand side of the market. This example is with Matchbook; however, we have taken screenshots from Matchbook, Betfair and Betdaq so you can clearly see what a lay bet is.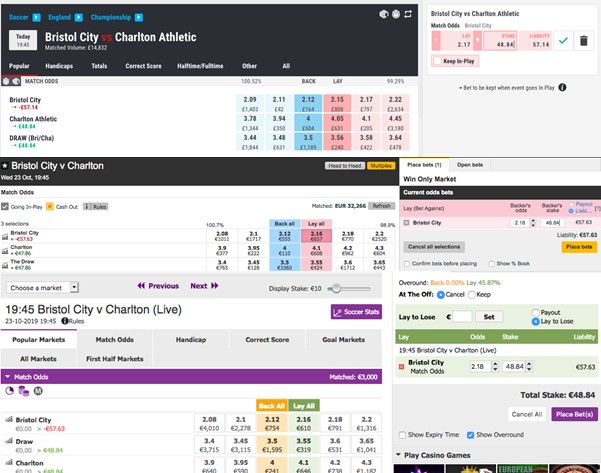 The easiest way to know that you are correctly laying a bet is the colour of the box. See how they all match with the colour on the right-hand side. Plus it will always show you a liability when laying.
Step 3 Action: Place the lay bet of £48.84 on Bristol City at 2.17.
Pre-Match Steps COMPLETE!
That's all you need to do pre-match. The above example has cost us £2.14 however remember we have our £50 free bet to come in-play…
As per Bet365 rules, we have to place a £50 bet in-play with our own money and they will credit this back if it loses later. So don't be expecting a £50 free bet to pop up when the game goes in-play.
Step 4, Place Your £50 Bet In-Play:
You can use the Profit Rush Price Matcher again for this. However, if you have Bet365 and an exchange open in two windows you can do it manually.
The odds will change in-play so we have to get our business done quick. However, we highly recommend waiting and placing your bets at Half-Time when the odds won't move as much.
For this we're going to give you an example, let's say an early goal has gone in against Bristol City and that the odds on Bristol City are now 3.5 on Bet365 and 3.6 to lay on the exchanges. Remember any market is fine for this offer, however, we're going to put £50 on Bristol City to win again.
Step 4 Action: We place a £50 bet with Bet365 on Bristol City at 3.5 in-play at Half-Time.
Step 5, Get the Correct Stake to Lay on the Exchanges to Lock in a Profit:
OK, so now we've placed our £50 free bet in-play – we need to lock in a profit.
At the moment, we lost £2.14 with our trigger bet and now have £50 on Bristol City at 3.5 meaning we will make a profit of £122.86 if Bristol City win but still lose £2.14 if they don't.
We need to lock in a profit regardless of the result. To do this we use the Profit Rush Bet Calculator again.
We use the calculator just as in Step 2, however this time we make sure that FREE BET (SNR) is selected in the Bet Type drop-down menu. This is very important, otherwise, your figures will be wrong.
We will then get this screen: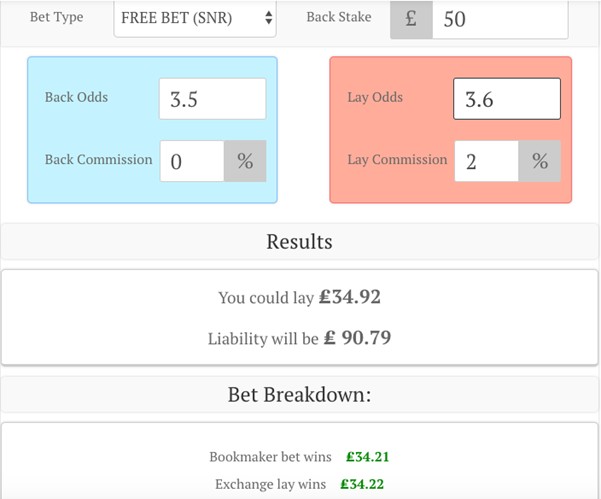 As you can see, the Profit Rush Bet Calculator has told us to lay Bristol City for £34.92 at odds of 3.6.
Step 5 Action: Got the correct stake to lay Bristol City at 3.6.
Step 6, Strike the Lay Bet and Lock in Your Profit:
Step 6 is exactly the same as Step 3, only this time the odds and stake are different – as you have got them from Step 5.
After you have placed your lay bet from Step 5 you have now locked in a profit of £34.21.
However, remember our trigger bet cost us £2.14 earlier so our total profit is £32.07. Not bad for ten minutes work.
[IMPORTANT] Stuff To Note When Doing The Bet365 Offer:
In-play odds can change very quickly. So we always recommended placing your in-play bets at half-time. The odds won't move as much and you'll have extra time to calculator the correct lay stakes.
The odds matter for your £50 free bet in-play. Check out the table below to see why.
| | | |
| --- | --- | --- |
| Odds for £50 In-play Bet With Bet365 | Estimated Exchange Liability When Lay Bet Placed | Estimated Profit |
| 2.0 | £30 | £21 |
| 3.0 | £75 | £30 |
| 4.0 | £125 | £33 |
| 5.0 | £175 | £35 |
| 6.0 | £225 | £37 |
Always try and find reasonably high odds at Half-Time, but of course, keep in mind that you need a good match with the exchanges too. Remember your balance on the exchanges will affect your choice also; you need to have enough in your account to cover the liability.
Matched Betting Made Easy!
So there you go! That's how easy it is to lock in £32.07 profit in 10 to 15 minutes. Let Profit Rush take the hassle and stress out of it with our Price Matcher and Bet Calculator, making it simple to profit!
Haven't registered yet? You should, it's Free! (Click Here)