For many years, lay betting wasn't an option. You could only bet on the winner of an event…
Now, be it horse racing, football, tennis, or any other sport. You can bet something to LOSE, making money if your selection doesn't win.
In this article, we'll explain everything you need to know about lay betting and some…
What is Lay Betting? An Effortless Explanation:
Available on various betting exchanges, Betfair being the primary choice, lay betting removes the 'to win' mindset and replacing it with the option to bet something will lose.
Wait, 'x team' is playing? They'll never win that match.
Ever made a statement like this? Of course, traditional bookmakers don't allow you to bet in such a way. On a betting exchange, you can! This is exactly what lay betting is….
For example; in the image below, the cursor is hovering over placing a lay bet on Man Utd: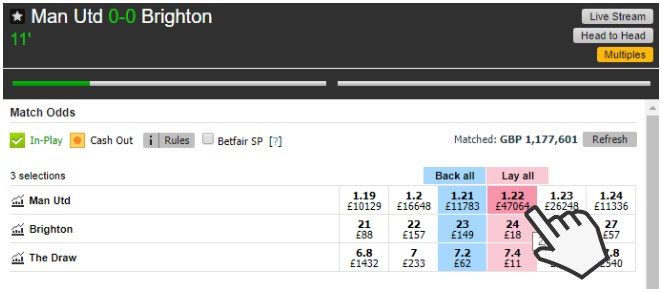 If this bet were struck, and Man Utd went on to lose – our lay bet would have won!
Now you know what lay betting is, it's time to crank things up a notch. You see, when lay betting is coupled with various strategies it can be extremely lucrative…
How Does Lay Betting and Matched Betting Work?
Very well actually. Lay betting is the part of any matched bet that makes us money!
Within match betting, lay betting is the second half of the equation. Known as a 'binary bet' there needs to be money on both sides of a bet for it to work. With one side of the bet, you'll be backing a selection in order to qualify for a bonus. At the same time, lay betting allows us to extract the risk. If you find the right opportunity, you can get yourself in a position where you're guaranteed a profit before the event even starts. Either way, it's good news with a bonus or special offer just around the corner. For a full explanation of what matched betting is, see this informative post.
Today, there are some fantastic tools out there that'll help with this process. Rather than working everything out manually, there are calculators that work out how much you need to bet, taking the stress out of placing your lay bets. After entering the odds and other details, you'll be shown how much you need to lay back to the market in order to place a successfully matched bet.
Placing a Lay Bet:
If you were to back a football team to win at 5/1, £10 would see you receive £50 in profit. Makes sense, right?
When laying, the process is just reversed. In that, you need £50 in order to make a £10 profit. At first, these offerings don't seem lucrative at all. But when you consider that lay betting carries far less risk, as the odds reflect, it becomes more interesting. If a football team has odds of 5/1, it's fair to say they are rank outsiders so backing isn't so likely to see a winning bet.
Since placing a lay bet is struck with another exchange user, the money available to bet against will depend on how busy the betting market is. For example, the amounts available on volleyball at 3 am on a Sunday won't even compete to 12 hours earlier when the Premier League was kicking off. Before doing anything, there needs to be betting liquidity in the market. Otherwise, the prices will be distorted; this is why most people stick to football and horse racing with lay betting. Furthermore, if there's a very quiet betting market, you aren't guaranteed bets will be matched (unless you're matching an existing offer) which is why a busy market is preferable.
Why Should YOU Choose Lay Betting?
As we've just seen, the odds with lay betting aren't too great unless you have a significant amount of money to spend.
Because of this, you might be wondering what the appeal is with lay betting and why it has become so popular. We can give you one simple answer; multiple opportunities.
Before we get ahead of ourselves, just because we're betting something to lose doesn't mean you'll win over an extended period. Ohh no. Having the ability to bet on the loss, or reduce risk to our existing back bets is a great advantage though. Particularly when you couple it with the use of free bet offers and the like that may be available. It may also allow you to lay off parts of your accumulator as they have won too…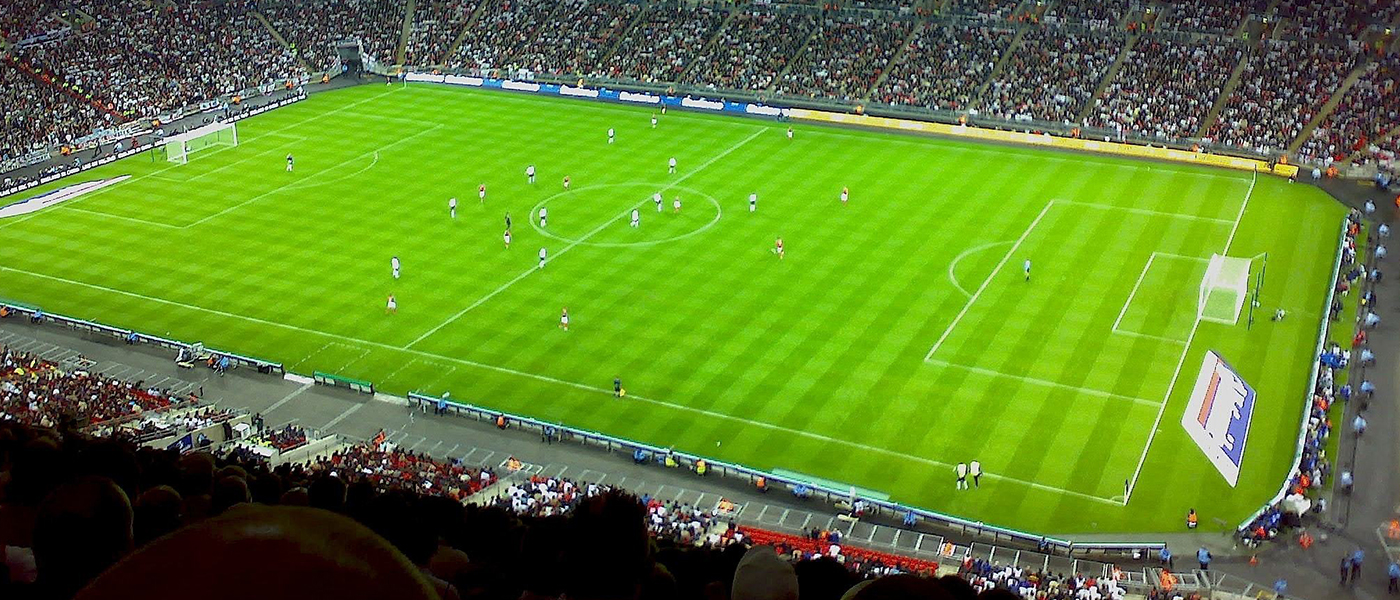 If we use a football match as an example again to remain consistent, a particular match might have odds of a draw at 3.8. By backing the bet with £100, you stand to make a profit of £280 if the draw happens (or a loss of £100 if it doesn't). As the game reaches half time, the score is 0-0 so you're feeling good. Since the draw at full time is more likely now, the odds will be shorter and could now be at 3.0.
Considering we've already backed the draw, we're now going to lay the draw at odds of 3.0. In order to win £126.67, the liability would be £253.34. At this point, you've now backed and laid and you don't need a specific outcome for profit. Why? If the game ends in a draw, we win the original £280 minus the lay of £253.34; this means a profit of £26.67. If either team scores and wins, you win £126.67 (minus the £100 stake for backing the draw); in this example, the profit figure happens to be near enough the same with a penny difference.
You can see; this means you're guaranteed to make a profit of nearly £27 no matter what happens.
Once the lay is placed, you can watch the game without feeling nervous because the profit has already been secured. As mentioned previously, you won't always be able to secure a profit. But you can certainly reduce the risk.
With £100 on a draw being rather risky in the example we used, you might be able to lay early and create a profit on one side and a tiny loss on the other. Even if you lose £10, it's better than the £100 and you get to go again later in the same day!
Lay Betting: Which Sport Is Best?
Horse Racing – With a handful of horses in each and every race, it's tough to pick a winner. You just don't know what's going to happen. Therefore, laying has become particularly popular in horse racing. It's much easier to find a winner than backing a horse.
Football – So far, we've spoken extensively about football. This is because it's another sport that excels with lay betting. With the Premier League especially, the league is more competitive than ever. Finding a low price to lay can produce a big return for your stake.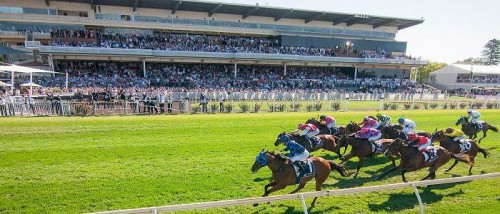 Why is Lay Betting Increasing in Popularity?
As we've seen already, the biggest advantage of all is the perceived security. Rather than pinning everything you have on one outcome, you can reduce risk of existing bets before the game or race even starts.
In addition to this, it allows for greater flexibility and opportunity when choosing a bet. Rather than picking one horse to win from seven, you can choose one that isn't going to win, with there being six losers. The odds are in your favour for this decision, even if the price is larger. Profits seem more consistent with lay betting compared to traditional betting, although, if the odds are right there is no advantage. The masses don't quite view things like this though. To savvy bettors, the biggest attraction has to be the matched betting and arbitrage opportunities lay betting can afford.