Making money from 2Up promotional offers is now easier than ever, just use our Early Payout Calculator!
Paddy Power and Bet365 are known for paying out early, they regularly do this on Football, Basketball and NFL.
For matched bettors, this can be an extremely lucrative proposition when using our 2Up calculator. You'll be able to lock in a profit as soon as you're paid out, as you're about to find out…
You can register to use our premium tools for free here.
Early Payout Calculator:
Once logged in, you can find the early payout calculator via the following menu on the main header-bar:
Features > Bet Calculator > Mode > Early Payout.

We've taken extra care to make the layout simple. Calculating your 2Up results is easy.
How to Use the Calculator Effectively
The clearest way to explain is to walk you through an example. Typically you will see promotional offers like this:
Bet365 payout early when your team go 2 goals up (Football).
Paddy Power pays winners when their team go 20 points clear (Basketball).
Betway payout early when your player goes 2 sets ahead (Tennis).
For the sake of our example, we're going to assume we've placed a bet on Chelsea within Bet365's promotional 2Up offer terms (always check the terms). Later in the example, we will also assume that Chelsea has taken an early 2 goal advantage, thus triggering the 2Up bonus.
Let's get started…
Step 1:
To start, you need to find a match that your chosen bookmaker is offering early payout on. In this case, we're using Bet365. The terms state you need to place a pre-match bet on the Premier League.
Next, we need to find a match where the Bookmaker and Betting Exchange odds are very similar. If you can find a perfect odds match and make use of Betdaq's 0% commission there's nothing to lose.
Look at the example below…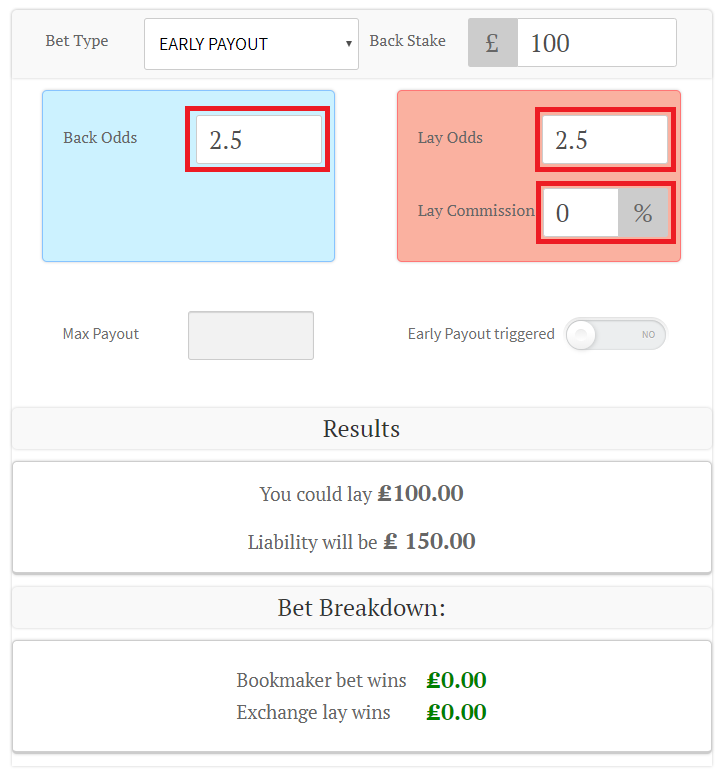 To clarify; because the bookmakers back bet and exchange lay bet are equal, with no commission, there is no qualifying loss!
Here's why:
If 2Up is not triggered: -£250 Bet365 +£250 Betdaq = £0.
If 2Up is triggered: +£250 Bet365 -£250 Betdaq = £0.
However, if the 2Up does happen, the early payout is triggered. This is when we progress to the next step, locking in some profit!
Step 2:
For the previous step, we used the early payout calculator without activating 'has the bookmaker paid out'.
Now Chelsea has gone 2Up, the bookmaker will payout early. This is when we select 'YES'.

Note: it's worth checking the bookmaker has paid out before proceeding. 
Selecting the early payout trigger will display extra calculator functionality. Input the current exchange odds (shown below).
Depending on the numbers, the calculator will then tell you the extra back stake you should need to place at the available odds to lock in a profit.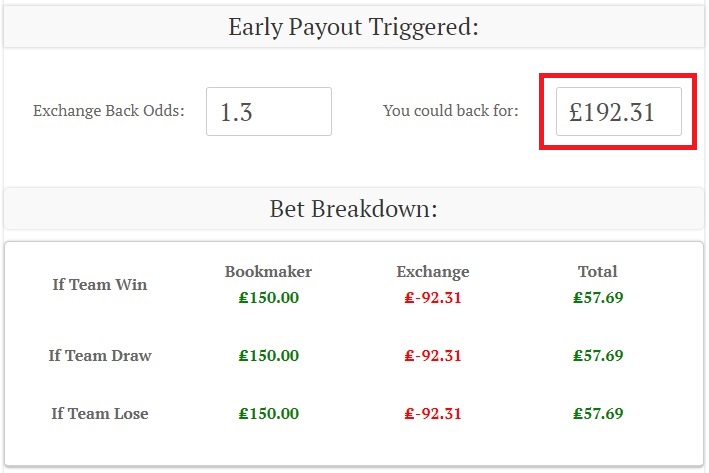 Step 3:
Now you just need to place an additional back bet at the current exchange odds. For us, this meant £192.31 at 1.3.
Placing this back bet cancels out our initial liability and 'hedges' our profit against the Bet365 2Up payout.
In this instance, the offer would have allowed us to lock in £57.69 profit.
Pretty cool, right?
Even better when you consider there isn't a maximum stake for this offer on Bet36 at the time of writing.
Some bookmakers have capped the stakes on this offer, unfortunately. For example, Paddy Power's terms cap payout at £2,500. To factor this into calculations you just need to input their maximum figure on the relevant calculator box. The early payout calculator will do the rest for you…

There are a couple of variables to consider when profiting from this offer.
'What if' Options to Increase Profit:
Profit is profit, and the advantage is in the promotion, so you should always cash-out your position with the calculator. However, in some instances, short-term results can be bigger if you hold.
Let us explain:
If your team go 2Up early, the profit margin is high because the current in-play odds will be higher. Alternatively, if they go 2Up in the final 5 minutes of a game the back odds will be very low. After all, the match is nearly finished…
Having low in-game odds means less guaranteed profit (not great for us). Also, the final stages of a game can increase pressure – enhancing the chance of an equaliser. It's a tricky one as essentially you need to make a decision based on what you think will happen next. The upside being; you're not going to lose money.
By not locking in your profit at low odds, if the opposing team should score, you'll be sat on a bigger win. It's your call.
The only other option is…
Partially Cashing-Out the 2Up Offer
Using this technique is largely based on your own opinion. However, by partially locking profits after your team has triggered the early payout there is the opportunity for a bigger payoff should their opponents equalise later. Having a large matched betting is a must on this one due to the swings in variance.
Ranked in order of profitability for locking in the early payout bonus (assuming they went 2Up first):
The trouble is; the longer you wait, the more risk you'll no cash-out.
You can mitigate this risk by only locking in a small portion of the profits once your team has gone 2Up.
The most sensible option is to break the potential profits down into stages. Setting a strict criteria before you begin is advisable, it'll stop you getting carried away.
For example, Chelsea has gone 2Up with our initial offering. However, we expect a draw at some point in the match. We're going to break our early payout bets into 3 parts.
To do this we just alter the initial back stake inside the early payout calculator:
2 – 0 to Chelsea: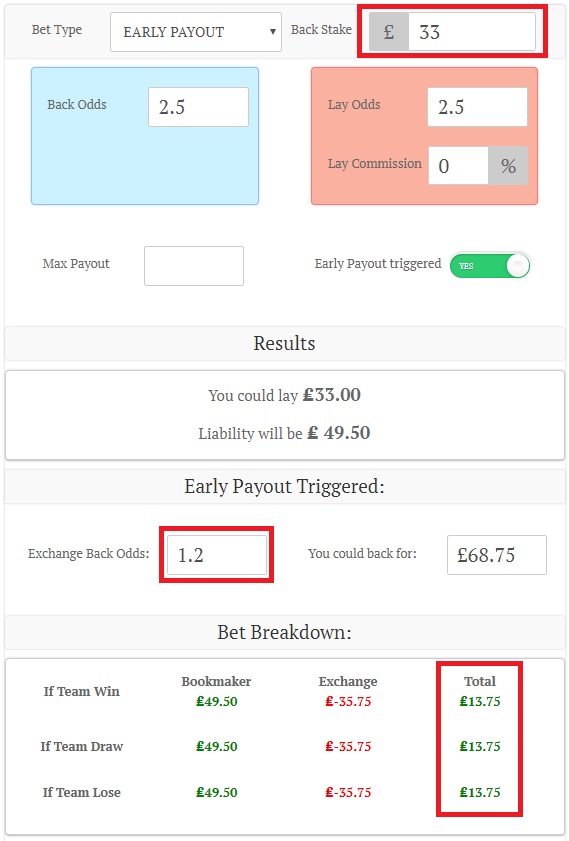 At an in-play price of 1.2 an early payout of £33 means placing an additional back bet of £68.75.
The total profit secured is £13.75.
2 – 1 to Chelsea:
At an in-play price of 1.65 an early payout of £33 means placing an additional back bet of £50.
The total profit secured is £32.50.
2 – 2 Draw: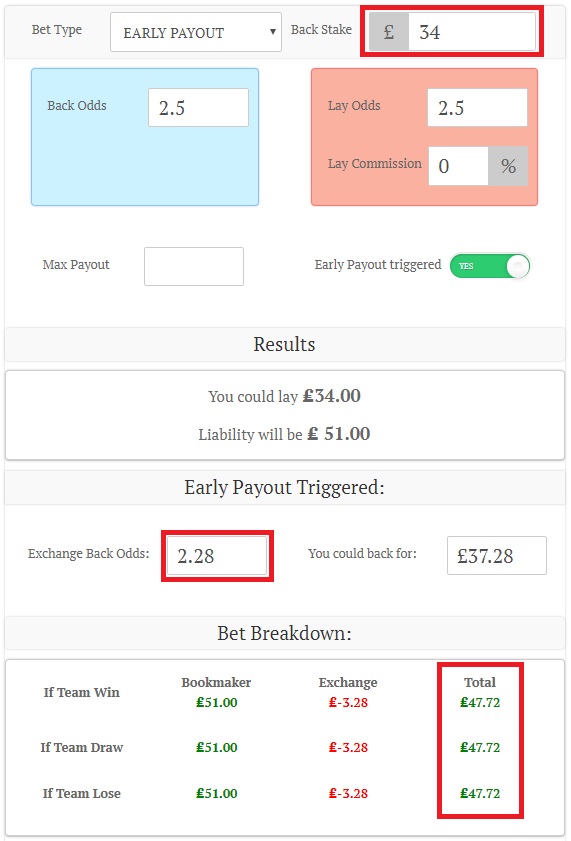 At an in-play price of 2.28 an early payout of £34 means placing an additional back bet of £37.28.
The total profit secured is £47.72.
As you can see, things can work out nicely. £13.75 + £32.50 + £47.72 = £93.97 total return.
On the other hand, if the score remained 2 – 0 you would only have £13.75.
Early Payout Calculator: 5 Extra Tips
There's a lot of information here, but don't let it overwhelm you. Early payout with 2Up offers is simple (and offers some big returns). Start slowly and be methodical, you'll soon see the value.
Early goals are best – We don't have any choice over when the goals are going to come. However, your team triggers early payout early its advisable to get locked-in, its when the bonus payout is most valuable to us mathematically.
Focus on low qualifying costs – This should be obvious, but making sure your qualification costs are as low as possible makes sense. Try to select matches where the odds are tight and exchanges have favourable terms. Our partners at Betdaq have some great commission offers for 2Up's.
Goals happen late – The most frantic part of any football match is in the final 15 minutes. This can work for or against you if you're sat on a triggered early payout but the odds aren't favourable it's often worth watching that last part of the game. Late goals can pump up the profits, if you're not watching, you won't catch it.
Remember stake limits – We mentioned that some bookmakers have put a cap on payout (namely Paddy Power £2,500). Just bear this in mind as we wouldn't want you to over-expose yourself. Either way that's a pretty big ceiling for an offer!
Great for account health – 2Up offers are great for your overall account health. To the bookmaker, you appear as somebody who loves a flutter. It's harder for them to differentiate between those taking value and those betting recreationally. If you exploit a lot of horse racing offer this technique is a great way to 'restore' some account health.
That's it, you are now an Early Payout Calculator / 2Up compliant.
If you have any further questions or want to check out the 2Up offers, please see the community forum.